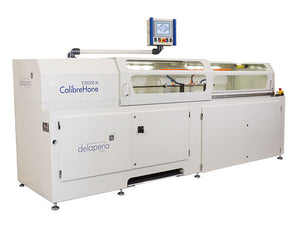 delapena Online Shop
CalibreHone E2000S-XL
Regular price
£0.00
£0.00
Unit price
per
Innovative long bore precision honing for straight and tapered bores
An innovative long bore precision honing machine, designed specifically to hone straight and tapered bores at lengths up to 1200mm*. The CalibreHone achieves tolerances and geometries to below 2μ, for diameters up to 50mm. This technically-advanced machine features a unique step-back, 'back taper' honing programme, to produce a controlled taper in the bore over a specified angle and length.
Innovative in design, flexible and efficient in operation
Electronic control system with Siemens' digital HMI

Repeatable full and short stroke to 0.1mm

Fully adjustable spindle and stroking speeds

Quick change tooling (optional)

Push button, closed door, hands-free operation

Operation by non-skilled workers

Online diagnostics (via Internet)

Reduced maintenance

Extended tool life
Ideal for:
Long bore honing to 1200mm*

Straight or tapered bores

Tolerances and geometries to below 2μ

Diameters to 50mm*

Reliable honing of barrels and choke forms in sporting gun barrels

Aerospace components 
Customised tooling and handmade abrasives are offered by Delapena to further expend the flexibility of this machine.
Specialist Capability: long bore honing, straight and tapered
Precision Control: Reliable accuracy and consistency 
Operational Efficiency: Reduced cost per part 
"The value offered by CalibreHone is best measured by the precise tolerances achieved, its versatility and specific ingenuity in honing extended, straight or tapered bores. It features a unique step-back, back taper honing programme, to produce a controlled taper in the bore over a specified length of up to 800mm." 
* Subject to honing application
---