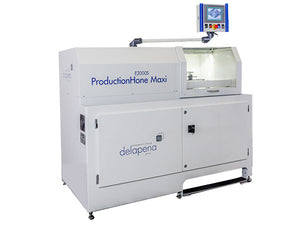 delapena Online Shop
ProductionHone Maxi E2000S
Regular price
£0.00
£0.00
Unit price
per


Precise, efficient and reliable production honing
With programmable precision, and de-skilled operational efficiency, the ProductionHone series provides reliable and cost effective production honing. ProductionHone Maxi (E2000S) is ideal for small to medium batches, honing diameters of 1.14 – 80mm. A choice of fixtures and full adjustability make this machine hugely flexible – it is an invaluable staple in engineering production environments. 
Innovative in design, flexible and efficient in operation
Electronic control system with Siemens' digital HMI

Fully adjustable stroke length and speed

Fully adjustable spindle speed

Unique spindle system with integral stone expansion

Multi-plane spindle nose

Feed movement via precision ballscrew

Stable, accurate and repeatable stone adjustment

Universal fixture as standard

Choice of fixtures for wide range of applications

Alignment gauge option

Semi-automatic, de-skilled operation
Ideal for:
Safety valves

Fuel Valves

Bushes

Gears

Hydraulic components
Customised tooling and handmade abrasives are offered by delapena to further expend the flexibility of this machine.
Precision Control: Reliable
accuracy and consistency 
Operational Efficiency:
Reduced cost per part 
Versatile and Flexible
: Wide ranging application and capability
"The value offered by ProductionHone is operational efficiency. These machines optimise the honing process, combining the precision and reliability of electronically-controlled operation, with the cost saving of de-skilled production. The ProductionHone series is highly adjustable and versatile in application, proving choice and speed to match dynamic demands and consistency to meet the highest quality standards." 
---